Quarta EVO is a web-based software with a powerful Workflow engine for Quality Assurance & Compliance to the Industry Standards,
for improving efficiency and effectiveness and reducing the costs of non-Quality. It can be integrated with IT systems in the company, and is able to collect data in real time, analyze and organize them to automatically create indicators (KPIs) to keep the entire Quality System under control.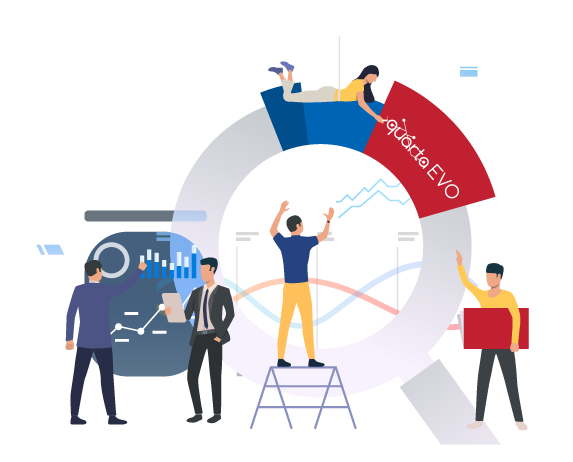 Quality Assurance
Quality Control
Quality ANALYSIS & INTEGRATION
Quality problem solving
Quality supplier
Is there any training for Quarta EVO?
Blulink offers training and webinars online or even on-site at customer sites. The courses are designed for system administrators, managers and end users.
Does the QMS Quarta EVO software offer Reporting and Analytics?
Quarta EVO KPI - Reporting allows users, analysts and managers to make more effective business decisions because they are based on KPIs that can be consulted in real time. It offers customizable features that relieve IT departments of the reporting burden. It allows the visualization of data in a clear way and the simple creation of reports both for internal users and for customers and / or suppliers.
Does the Quarta EVO QMS integrate with other systems?
Yes, it makes it easy to integrate with other critical systems, including:
Enterprise Resource Planning (ERP)
Manufacturing Execution Systems (MES)
Other IT Systems (CRM, WMS, PayRoll, etc…)
Workflows and processes can be customized for all these systems; this flexibility ensures compliance with changing regulatory requirements.
Which industrial sectors is Quarta EVO suitable for?
Quarta EVO can be used in almost any industry, offers several ready-to-use workflows but at the same time it is also flexible and configurable, adapting to any process or compliance requirement. 
What are the immediate benefits of the QMS Quarta EVO?
The activation of a software for the Quality Management System allows companies to invest time and resources in better product quality and regulatory compliance. It also makes supplier quality management much easier and extends quality beyond the corporate walls.
Quarta EVO has been supporting over a thousand organizations for more than 30 years in addressing their main challenges, including: the most stringent compliance requirements, the high complexity of processes and their harmonization in a globally diversified regulatory landscape. Quarta EVO improves efficiency by automating many manual steps in Quality workflows and allows significant customization which makes Quarta EVO the ideal solution for corporate quality management.